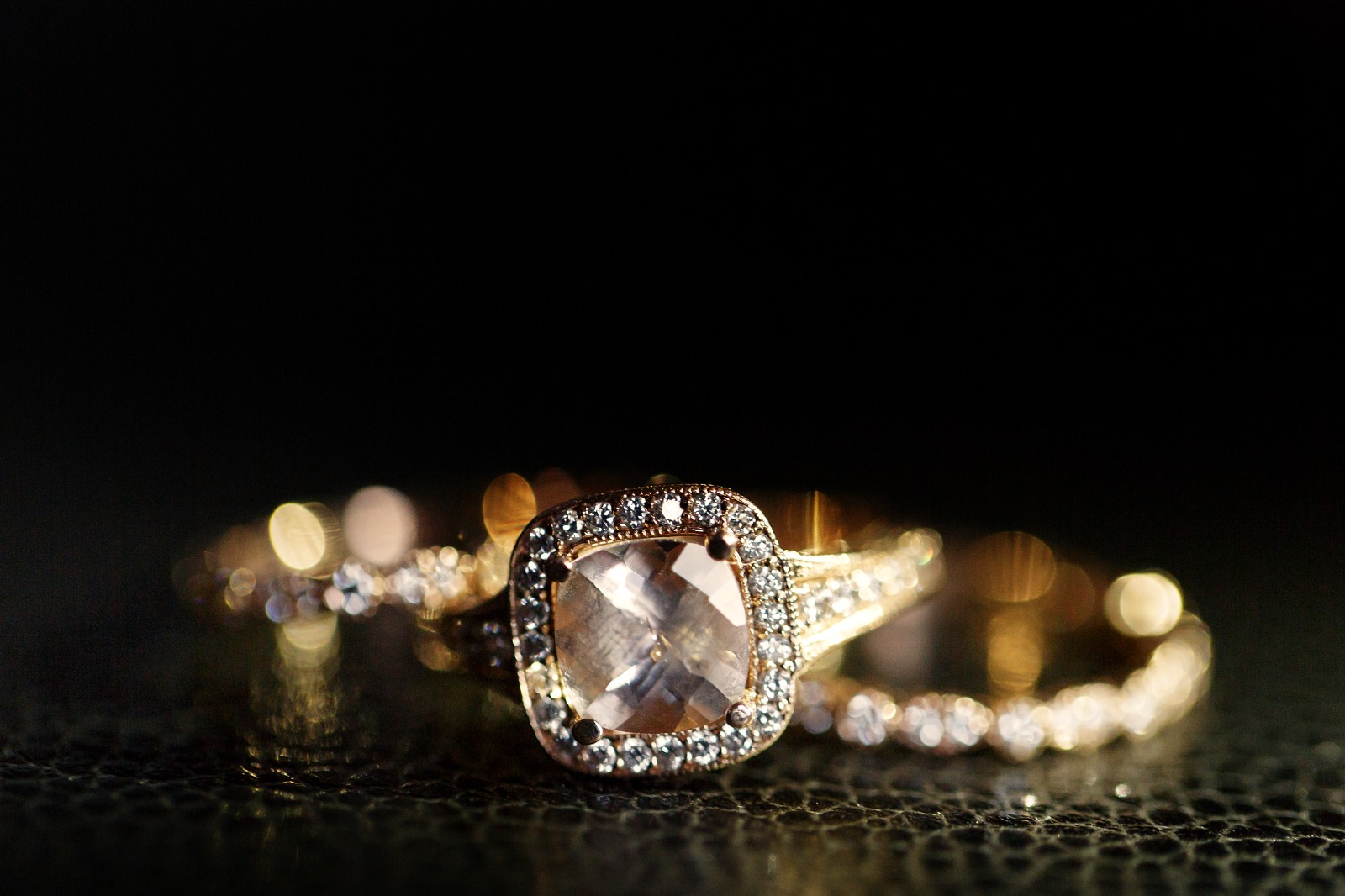 Weddings are a timeless celebration of love and commitment. They are not just about the ceremony but a display of personal style and individuality. Wedding jewelry plays a significant role in this expression of personal style, and it's crucial to keep up with the latest wedding jewelry trends to make your special day truly unforgettable. In this blog, we will explore the latest wedding jewelry styles, bridal jewelry fashion, modern wedding jewelry, trending wedding rings, and the appeal of custom wedding rings. So, let's dive into the world of evolving wedding jewelry trends and find inspiration for your upcoming nuptials!
The Changing Face of Wedding Jewelry
Wedding jewelry trends have evolved over the years, reflecting the ever-changing tastes and preferences of brides and grooms. Traditionally, weddings were associated with classic and timeless jewelry designs, but the modern era has ushered in a new era of creativity and innovation. Couples today are seeking unique, meaningful, and stylish pieces that not only complement their attire but also showcase their personalities.
Latest Wedding Jewelry Styles
To stay ahead in the game, it's essential to be aware of the latest wedding jewelry styles. While traditional pieces such as solitaire diamond engagement rings remain popular, newer trends have emerged. Also, wedding jewellery are a great investment plan and some of the best tips for buying gold is to invest in trending jewellery so that you get a good return value in the future. Some of the trending styles include:
Halo engagement rings: These rings feature a central gemstone surrounded by a halo of smaller diamonds, adding brilliance and depth to the design.
Vintage-inspired jewelry: Many couples are leaning towards jewelry with a vintage or antique feel, featuring intricate details and unique gemstone cuts.
Colored gemstones: Brides are increasingly opting for colored gemstones like sapphires, emeralds, and morganite in their engagement rings to add a pop of color.
Geometric and nature-inspired designs: Modern wedding jewelry often features geometric patterns and nature-inspired motifs that add a touch of contemporary elegance.
Bridal Jewelry Fashion
Investment in gold is all about bridal jewelry for some. Bridal jewelry fashion encompasses more than just the engagement ring. It includes necklaces, earrings, bracelets, and even hair accessories. Today's brides are exploring diverse options to elevate their bridal look:
Statement necklaces: Bold, intricate necklaces are gaining popularity, drawing attention to the neckline and adding a touch of glamour.
Chandelier earrings: Dangling and ornate earrings are the choice for many brides, adding a touch of elegance and drama.
Layered bracelets: Stacking bracelets, particularly with personalized charms or birthstones, allows brides to tell their unique love story.
Hair accessories: Hairpins, tiaras, and combs adorned with pearls, crystals, or floral motifs have made a comeback.
Modern Wedding Jewelry
Modern wedding jewelry is all about redefining traditions. Couples are embracing unconventional choices and unique materials to make their wedding day special:
Alternative metals: Rings made from alternative metals like titanium, tungsten, and black zirconium are growing in popularity due to their durability and unique appearances.
Personalized jewelry: Custom engravings, birthstones, and coordinates are being incorporated into wedding jewelry to make them more meaningful and individualized.
Stacking rings: Brides mix and match various wedding bands to create a unique stack that symbolizes their journey.
Trending Wedding Rings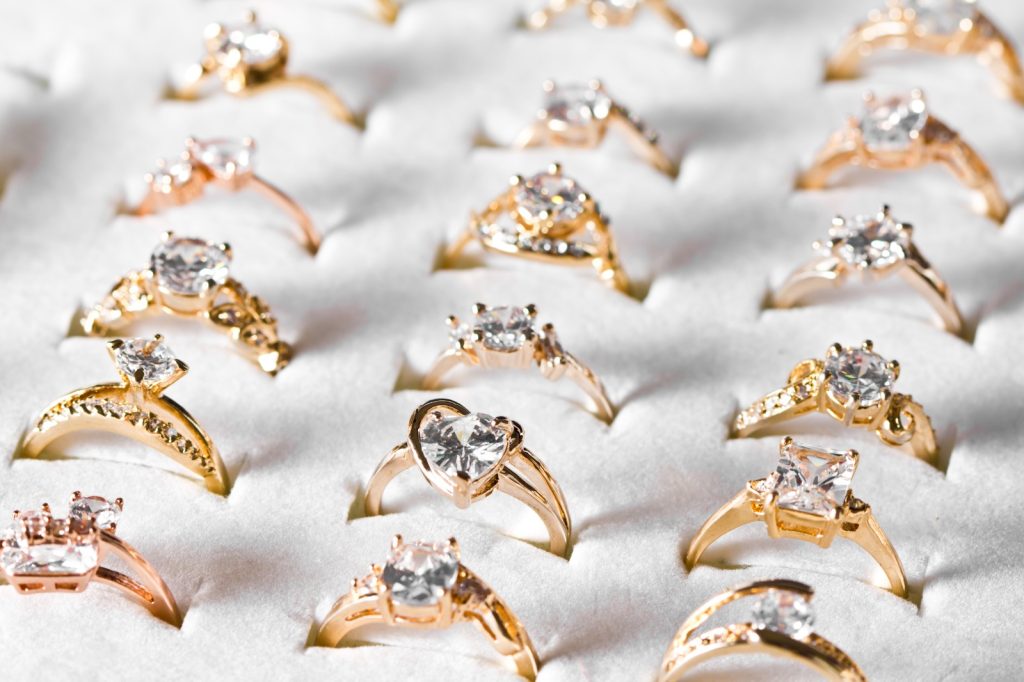 Wedding rings are the ultimate symbol of commitment and love. Staying updated with the trending wedding ring styles can help you choose the perfect set that resonates with your personality and relationship:
Double-band rings: This innovative design features two bands that come together to form one ring, symbolizing the union of two individuals.
Open rings: Rings with open designs, often with negative space, are gaining traction for their contemporary and unique appearance.
Gemstone accents: Wedding bands with colored gemstone accents add a touch of color and personalization.
Custom Wedding Rings
Custom wedding rings have become highly sought-after, allowing couples to create one-of-a-kind pieces that hold sentimental value. Here are some reasons why custom wedding rings are gaining popularity:
Personalization: Custom rings allow you to include engravings, specific gemstones, or unique designs that hold special meaning for you and your partner.
Unique styles: Create wedding rings that stand out from the traditional options, reflecting your individuality and love story.
Symbolism: Custom rings can be designed to include symbols and motifs that are significant to your relationship, making them even more meaningful.
Conclusion
As the world of wedding jewelry trends continues to evolve, it's essential to stay updated with the latest styles, bridal fashion, modern jewelry, trending rings, and the allure of custom wedding rings. Your wedding day is a special occasion, and the jewelry you choose should be a reflection of your unique love story. Embrace the changing landscape of wedding jewelry and find the perfect pieces that will make your day truly unforgettable with Sri Ganesh Diamonds & Jewellery. Your wedding jewelry is not just an accessory; it's a symbol of your love, commitment, and personal style. So, make it count! Visit our store at Sadashivanagar to embrace and experience the true value of purity and trust, where every piece of jewelry has a story of its own.